Before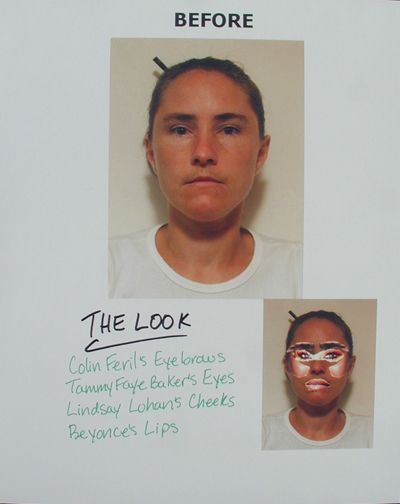 In many fashion magazines, there are amazing make-overs and weight loss miracles. The ritual of make up application to beautify oneself has always somewhat eluded me. Yet, upon entering a high-end department store you are assaulted by the artists of make-up. So I concocted an image of beauty for myself, an "After". My new look would be an ideal of beauty as collaged out of celebrity magazines; hence Colin Feril's eyebrows, Tammy Faye Baker's eyes, Lindsay Lohan's cheeks, and Beyonce's lips. A gorgeous to be.
The Transformation
Upon entering a well established department store in New York City, I consulted with one of the make-up artists. I showed her my collage and without flinching she set to work in creating my new look. I had a friend document the phases and I wrote down everything she used. It took an hour and a half.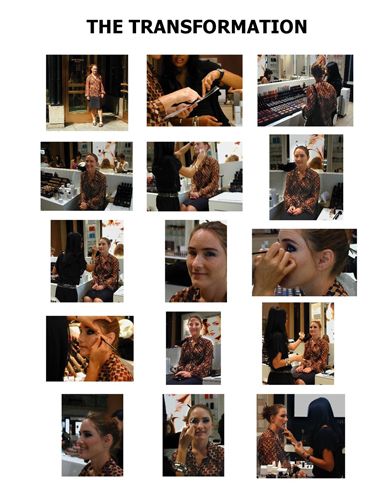 The Price for Beauty 2005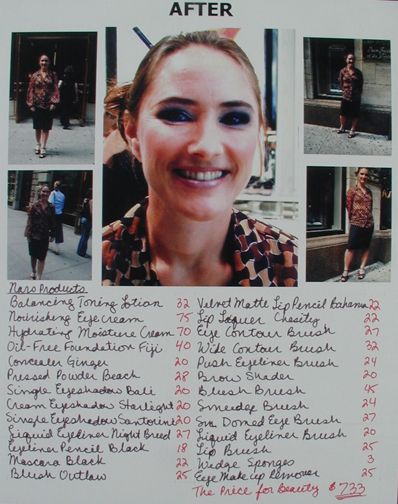 After
It turned out the price for this kind of beauty would cost $733! Did I feel more glamourous, desirable, beautiful? What would those feeling yield? Would it be worth it?